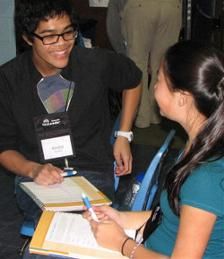 Kiwanis Clubs and individuals are asked to donate to support the leadership training provided to high school students at the Ohio District Key Leader event. 
Key Leader is Kiwanis International's leadership education program for students, primarily in high school. The Key Leader mission is to provide a life-changing experience that inspires young people to achieve their personal best through service leadership. Events are open to all students ages 14 to 18, including those currently in a Kiwanis student group such as Key Club and students who have not yet been a part of a Kiwanis family program. 
These funds are designated as a pass through fund and given to the Ohio District Key Leader program to provide scholarships to the leadership development training at the Key Leader event..
MORE ABOUT KEY LEADER:
Today's high school students are a part of what is considered one of the loneliest generations in history. What difference would it make if students found their fit and committed themselves to their communities early in their high school experience? 
Key Leader teaches service leadership and social-emotional skills essential for students to become values-driven leaders. Based on Robert Greenleaf's "servant leadership" model, and delivered to more than 33,000 students around the world since 2005, Key Leader is an essential program to break down the isolation students face in the era of smartphones.
THE KEY LEADER CURRICULUM EMPHASIZES:
Personal Integrity
Personal Growth
Respect
Building Community
Pursuit of Excellence
PROGRAM STRUCTURE
Each Key Leader program is led by a qualified and certified Lead Facilitator, who oversees the implementation of the curriculum and leads all large group sessions. Older students, including previous Key Leader attendees, serve as small group facilitators for activities in small groups called "neighborhoods."
The program flows through large- and small- group sessions, time for personal reflection, interactive activities, "challenge course" activities, and is anchored by several videos, including a collection from "The Collector of Bedford Street," which follows the community leadership of Larry Selman, known as the "Shepherd of Greenwich Village,"
Key Leader can be used to fit a variety of needs including freshman orientation, a retreat for student leaders or rising student leaders, or simply as a means to establish greater connections between students and their school community. It is designed for students in grades 9, 10, and graduating 8th graders. 
SPONSORSHIP OPPORTUNITIES
Key Leader programs can be sponsored by any type of organization, including high schools, local businesses, nonprofit foundations, and Kiwanis districts or clubs. High schools can co-sponsor an event with their Key Club or local Kiwanis Club for a reduced rate. 
Donate Today by clicking on the Donate button on the front page of this website and then selection the Service Leadership Program section