Support the First Family Project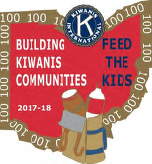 Each year the Governor of the Ohio Kiwanis District designates a project that Kiwanis clubs and members are encouraged to support.
Your Ohio District Kiwanis Foundation plays a key role in the project serving as the conduit through which funds can be donated for designation for the First Family project. 
This year Governor Dan and First Lady Barb have chosen to address the food insecurity problem faced by many children in Ohio. Many children do not have reliable source of food at home. They depend on school lunches and breakfast, which leaves them without food for the entire weekend.
There are several ways your club can get involved even if you cannot start a Weekend Food Pack program yourself.  Feel free to come up with an idea that best fits your club. Please reach out to your Service Leadership Programs. This will add more hands and feet to complete the project and it will help strengthen the bonds with the Kiwanis family. Please report back how your club is helping meet this need in hours spent and amount of goods and money donate
Monetary donations are made to the Ohio Kiwanis Foundation for the First Family Project at the Governor's official visit to Divisions and at other times throughout the year, these will gladly be accepted this year. All proceeds received will be used to fund small grants back to Ohio Kiwanis clubs to assist them in building, supporting or expanding a Weekend Food Pack program.
Your support of this project will help Ohio children with food insecurities to get much needed nutrition. Thank you for your support for Ohio's neediest children. If you have questions please feel free to contact   Barb Litzinger at 614-563-9711 or at blitzinger07@gmail.com
The Ohio District Kiwanis Foundation Board has approved a special incentive program to support the First Family Project.
Any Past International President's award donation of $500 will be split between the First Family Project Fund and the Foundation Fund.  This is a great way for individuals or clubs to receive recognition while supporting a very worthwhile project.
If a member or club wishes to make a donation to the First Family Literacy Project through the donation to the Past International President's program they should send a check to the Ohio District Kiwanis Foundation at P.O. Box 668 Circleville, Ohio 43113 or use the Donate Button on our website.
One of the most valuable skills we can give our children is the development of good reading skills.  This literacy project will change lives in a very positive way.