Support the First Family Project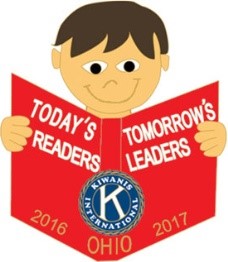 Each year the Governor of the Ohio Kiwanis District designates a project that Kiwanis clubs and members are encouraged to support.
Your Ohio District Kiwanis Foundation plays a key role in the project serving as the conduit through which funds can be donated for designation for the First Family project. 
During the 2016-17 administrative year Governor Bill Flinta and First Lady Peggy's First Family project is focused on Literacy.
The project is designed to encourage every club to complete a literacy related project in their own community and to include their Service Leadership Programs in the project with them.
Each club will be free to determine the size and scope of their project based on their community needs.
A resource guide is available to assist with the program. Click "102 Projects to Support Literacy," to view the guide.
The primary measurement of success of local projects will be in service hours as opposed to dollars raised. However, monetary donations to the Ohio District Kiwanis Foundation designated for the First Family Literacy project will be accepted. These funds will be used to fund grants to Ohio District Kiwanis clubs to help fund literacy projects or literacy related projects in Ohio communities.
The Ohio District Kiwanis Foundation Board has approved a special incentive program to support the First Family Project.
Any Past International President's award donation of $500 will be split between the First Family Project Fund and the Foundation Fund.  This is a great way for individuals or clubs to receive recognition while supporting a very worthwhile project.
If a member or club wishes to make a donation to the First Family Literacy Project through the donation to the Past International President's program they should send a check to the Ohio District Kiwanis Foundation at P.O. Box 668 Circleville, Ohio 43113 or use the Donate Button on our website.
One of the most valuable skills we can give our children is the development of good reading skills.  This literacy project will change lives in a very positive way.